The United Pro Choice Smokers Rights Newsletter
Voters for Fairness and Freedom
Smokers Welcome Chat Rooms Schedule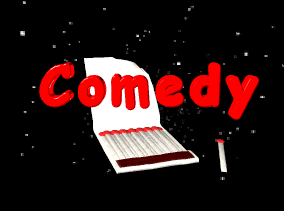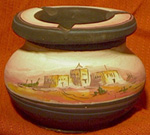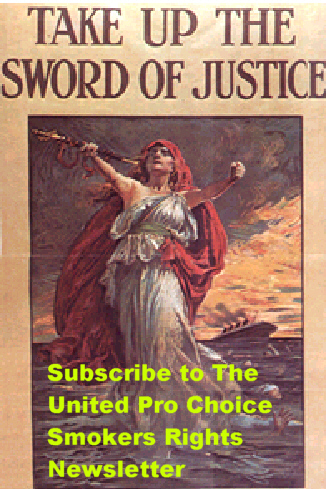 Propaganda 101
For any who have doubts about the way Antis play with statistics to spread their lies....
I uncovered the latest nugget just today after seeing a PR NewsRelease wire story headlined "NYC Firefighters and EMS Workers Go Tobacco-Free"
Wow! Quite an achievement, eh? Guess Bloomberg's NY smoking ban is really having positive results, right?
uh uh... let's try reading just the sub-headline of the press release (something that doesn't even become VISIBLE to AOL readers until they click on a link to the full story...)
"FDNY Tobacco Cessation Program Shows 40 Percent Quit Rate at 6 Months"
Welllll.... 40% quit rate is still PRETTY impressive, though not quite what the main headline indicates. Hmmm... maybe we should read a bit more though....
approximately 1,500 of 11,000 FDNY firefighters were cigarette smokers, ... 214 of the FDNY cigarette smokers enrolled in the 12-week program. ... 39 percent were tobacco free at 6-months.
Hmm... so it's actually 40% (well, 39%, but who's counting?) of the
214/1,500 or actually 86 firefighters who are now "tobacco free."
1500 smoking Firefighters altogether at the start, so this "Tobacco Free" program has resulted in a 6% quit rate. The overall smoking rate in the 11,000 person NYFD has gone from 13.6% down to 12.9%
Amazing how the entire NYFD and EMS services going Smoke-Free translates into a drop of seven tenths of one percent once the actual FACTS are looked at.
Can anyone spell P-R-O-P-A-G-A-N-D-A ?
Sheeesh.
Who SPONSORED this project and Press Release? Saddam's Information Minister, Baghdad Bob? Nope... buried within the release we see one of the main sponsors, probably THE main monetary sponsor, was:
"Pfizer Corporation (makers of the Nicotrol® line of smoking cessation products)"
Surprise, Surprise!
Golleee Gomer! Who woulda thunk it?
<full press release reprinted below>
:/
===========

NYC Firefighters and EMS Workers Go Tobacco-Free


FDNY Tobacco Cessation Program Shows 40 Percent Quit Rate at 6 Months

ORLANDO, Fla., Oct. 29 /PRNewswire/ -- Since the launch of the Fire Department of New York (FDNY) Tobacco Cessation Program in August 2002, nearly 400 firefighters and EMS workers have participated in the educational tobacco-free programs, with more than half becoming tobacco-free at 3-months. Year-One results of the FDNY Tobacco Cessation Program were presented this week at a press conference in Orlando, Florida, during CHEST 2003, the annual international scientific assembly of the American College of Chest Physicians (ACCP). The FDNY Tobacco Cessation Program was initiated in 2002 as a result of the 9/11 World Trade Center tragedy. With support from The CHEST Foundation, the philanthropic arm of the ACCP, Pharmacia (now Pfizer), and the International Association of Firefighters, FDNY created the first-ever smoking cessation program for firefighters, EMS rescue workers, and their spouses.

"Quitting smoking is often a long and challenging process, but making a commitment to quit is one of the best decisions a person can make," said David J. Prezant, MD, FCCP, FDNY's deputy medical officer and co-designer of the program. "We believe the extremely high penetration rate of our cessation program, about a five-fold greater rate than other programs, is due to offering dedicated workers a voluntary, nonpunitive, free program designed by experts and administered by credible health-care professionals. The program's success also stems from the participants' determination to quit using tobacco and become healthier individuals, especially after their exposure to World Trade Center dust."

In a survey conducted in the months after September 11th, Dr. Prezant found that approximately 1,500 of 11,000 FDNY firefighters were cigarette smokers, with 29 percent having increased their habit since 9/11 and 23 percent having re-started cigarette smoking after 9/11. After one year of rolling classes, 214 of the FDNY cigarette smokers enrolled in the 12-week program. Of the participants, 88 percent were treated with nicotine replacement therapy, with the most using Nicotrol(R) patch and inhaler, and 14 percent with nicotine replacement therapy plus buproprion SR. Follow-up sessions indicated that 64 percent of the enrollees were tobacco free at 3-months, and 39 percent were tobacco free at 6-months. Program quit rates show a 10-fold increase compared to previous studies not using medications and a two- to three-fold increase compared to trials using single nicotine replacement therapy of any type.

The FDNY Tobacco Cessation Program uses a multi-modal approach, incorporating proven methods of smoking cessation with the unique needs of rescue workers. The program uses combination nicotine replacement therapy (patch, inhaler, spray) and other medications as needed with behavior-stress support from smoking cessation experts. Participants of the program also have access to a free online program from Pfizer called Nicotrol(R) Helping Hand(TM), which is available to all smokers who are trying to quit. The interactive site provides personalized information and quit tips and enlists the support of friends and family members by educating them on support roles throughout the cessation process.

"By supporting the FDNY Tobacco Cessation Program, The CHEST Foundation reinforces its commitment to educating the community on the dangers of tobacco use and raising awareness about general lung health," said Diane E. Stover, MD, FCCP, Chief of Pulmonary Medicine at Memorial Sloan Kettering Cancer Center and President of The CHEST Foundation. "We commend our FDNY firefighters and rescue workers for overcoming, yet, another great challenge and hope that their courage and resolve to quit smoking will inspire other smokers in New York and around the country to do the same."

The Tobacco Cessation Program is offered free-of-charge to participants and is made possible by FDNY, The CHEST Foundation, Pfizer Corporation (makers of the Nicotrol(R) line of smoking cessation products), and the International Association of Firefighters. In addition, smoking cessation expert and co-designer of the program Matthew P. Bars, MS, of the Smoking Consultation Service, and other health-care professionals from Montefiore Medical Center, Long Island Jewish - North Shore Medical Center, and Memorial Sloan-Kettering Cancer Center have assisted in support sessions for participants. The supporting professionals continue to use the program to help train pulmonary fellows in the art and science of tobacco cessation.

The CHEST Foundation is the philanthropic arm of the ACCP, whose mission is to provide resources to advance prevention and treatment of chest diseases. Smoking cessation is a priority of The CHEST Foundation and is pursued through education, collaboration, communication, and recognition.

CHEST 2003 is the 69th annual international scientific assembly of the American College of Chest Physicians, being held in Orlando, October 25-30. ACCP represents more than 15,700 members who provide clinical respiratory, critical care, and cardiothoracic patient care in the United States and throughout the world. ACCP's mission is to promote the prevention and treatment of diseases of the chest through leadership, education, research, and communication.

SOURCE American College of Chest Physicians

CO: American College of Chest Physicians; CHEST 2003; Fire Department of New York; CHEST Foundation

ST: Illinois, Florida, New York

SU: TDS SVY

http://www.prnewswire.com

10/29/2003 08:00 EST